we are glad to announce that the schedule is out and you can find it in a free Excel spreadsheet form, where all games of the upcoming tournament are scheduled in a comfortable way, so that you can follow the development and flow of the tournament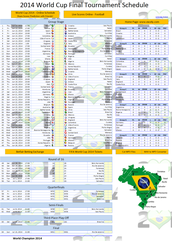 Ice Hockey World Championship 2014 Schedule in Excel incorporates a full calendar. Ice Hockey Federation is going to host 78th event of 2014 World Ice Hockey Men's Championship. There will be sixteen teams participating Hockey Championship, which will be held 9-25 May of 2014. Game events will be hosted by Belorussia.
UEFA Champions League is a free spreadsheet with a calendar of all the games of the tournament and a group standing of each team.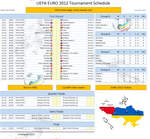 The UEFA EURO 2012 Final Tournament will be the 14th European Championship for national football teams sanctioned by UEFA. The final tournament will be hosted by Poland and Ukraine between 8 June and 1 July 2012. It is the first time that either nation has hosted the tournament.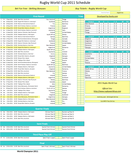 The Rugby 2011 World Cup will be the seventh Rugby World Cup, a quadrennial international rugby union competition inaugurated in 1987. The event is scheduled to be played over seven weekends from the weekend starting 10 September and culminating the weekend starting 22 October 2011.

The Cricket 2011 World Cup is a biggest cricket tournament scheduled to take place in India, Sri Lanka and Bangladesh in February-March 2011. It will be the 10th cricket world cup.
The 2010 FIFA World Cup will be the 19th FIFA World Cup, the premier international football tournament. It is scheduled to take place between 11 June and 11 July 2010 in South Africa.
2010 Olympic Games (Ice Hockey) Schedule
The 2010 Olympic Winter Games events to be held in Vancouver include curling, figure skating, ice hockey, sledge hockey, short-track speed skating and wheelchair curling.
UEFA Europa League 2009-2010 Schedule
Download Europa League Schedule (group round only).
European Leagues. Season 2009/2010
Bundesliga: Download (90Kb)

Ligue 1: Download (103Kb)

Primera Division: Download (102Kb)

Serie A: Download (103Kb)
Printer friendly Excel Spreadsheet for creating a loan amortization schedule. The calculator accommodates loans with up to 40 years (or 480 monthly payment periods).
UEFA EURO 2008 Schedule is a free spreadsheet with a calendar of all the games of the tournament and a group standing of each team.