Most of the football fans in Africa are looking forward to 13 th January 2018 when the competition officially kicks off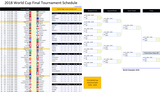 Most of the football fans in Africa are looking forward to 13 th January 2018 when the competition officially kicks off
As we all know the worldwide famous 2016 UEFA European Championship or simply Euro 2016 will be start in France on 10th of June and finish on 10th of July 2016
we are glad to announce that the schedule is out and you can find it in a free Excel spreadsheet form, where all games of the upcoming tournament are scheduled in a comfortable way, so that you can follow the development and flow of the tournament
Quite often Excel is used for working with small databases and spreadsheets with up to several tens (or hundreds) of thousands of rows. Such tools as Pivot Tables, filters and Advanced Filters are used for easy and convenient data analysis.
Advanced Filter allows a data sampling function to be performed from Excel spreadsheets which is similar to SQL-query.
Ice Hockey World Championship 2014 Schedule in Excel incorporates a full calendar. Ice Hockey Federation is going to host 78th event of 2014 World Ice Hockey Men's Championship. There will be sixteen teams participating Hockey Championship, which will be held 9-25 May of 2014. Game events will be hosted by Belorussia.
UEFA Champions League is a free spreadsheet with a calendar of all the games of the tournament and a group standing of each team.